The Winter Season has arrived, ushering in HOT new trends in style & fashion and this year the "IT" shoes are off the charts. In fact, I'm tempted to stop writing and run out to the nearest Nordstrom, Steve Madden, Aldo or Neiman Marcus right now to exercise my credit card muscle. But…I wouldn't do that to you, not without letting you in on the secret first.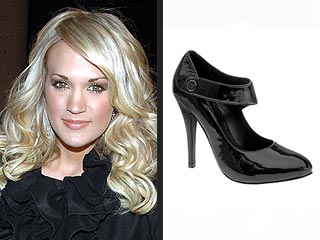 Carrie & Mary Jane!
Ladies, I think most of us would agree; shoes are like chips…you can't just stop at one pair. Carrie Bradshaw had it right all those years on Sex & the City…when in doubt, crisis, or celebration simply buy yourself a pair of shoes and all will be right in the world.
So, what's "en vogue" for winter? I'm glad you asked. Here are some of the trends that will keep both you and your little tootsies hot all season long.
1.BLACK MARY JANE'S ARE MAKING A COMEBACK!!
2.TAN BOOTS
3.NUDE PEEP TOE PUMPS
4.COWBOY BOOTS
5.BARE LEGS & BOOTIES
6.RED PUMPS
~ Happy Hunting Girls!