Jennifer Love Hewitt, the Star of the CBS Friday night hit, Ghost Whisperer, is engaged! She and long time beau, Scottish actor Ross McCall of HBO's 2001 Band of Brother's fame, got engaged last week. Congrats Jen!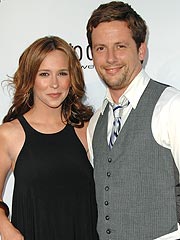 The Happy Couple
I must also congratulate "Love," as she's affectionately known, on speaking out against the scrutiny that women's bodies are subjected to in Hollywood and in society generally. Recent photos of a bikini clad Jen and her fiancée were snapped in Hawaii ( I'm have not included the pics because I refuse to buy into the BS), along with some extremely unflattering comments about her body…and she is a size 2 (not that it matters what damn size U are!). That's just outrageous and Jen is very LOUDLY saying so on her blog. "Like all women out there should, I love my body," Hewitt, 28, wrote. She adds, "A size 2 is not fat! Nor will it ever be. And being a size 0 doesn't make you beautiful. … To all girls with butts, boobs, hips and a waist, put on a bikini – put it on and stay strong."


HEALTHY, SEXY & CONFIDENT!
~ AMEN JEN!