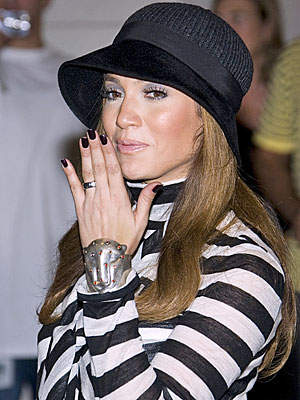 J. LO in Black!
"You never get a second chance to make a first impression." Make sure you're putting your best…hand forward this season. Your hands are your hallmark so let them make a strong statement. This Winter the trendiest nail colors are sleek, sexy and sultry with an urban flair. Think dark, rich and bold colors that definitely draw attention. Hollywood's Hottest Trendsetters like Jennifer Lopez, Lauren Conrad, Hayden Panettiere and Amanda Bynes are all sporting the dark-nail hues.

The Russian Collection
The new Russian Collection by OPI has some of the most fabulous colors for the season. As usual, OPI is the nail polish de jour! Hues range from Bold Reds to Deep Burgundy and Indigo. The names are as clever as ever…the branding experts at OPI deserve an award for "tongue-in-cheek" originality. The Russian collections brings superlative colors and names like; BORIS & NATASHA (a deep raisin), SIBERIAN NIGHTS (onyx), KRÈME DE LA KREMLIN (terra cotta pink), AN AFFAIR IN RED SQUARE (deep shimmering red), RUSSIAN NAVY (deep-sea indigo) and many more!

Midnight In Moscow by OPI